This is a page that I will update once a month or so to let you all in on my thoughts about racing, coaching & nutrition. Hopefully you can gain some insight in how to make your own skating improve. Thanks for reading everyone :)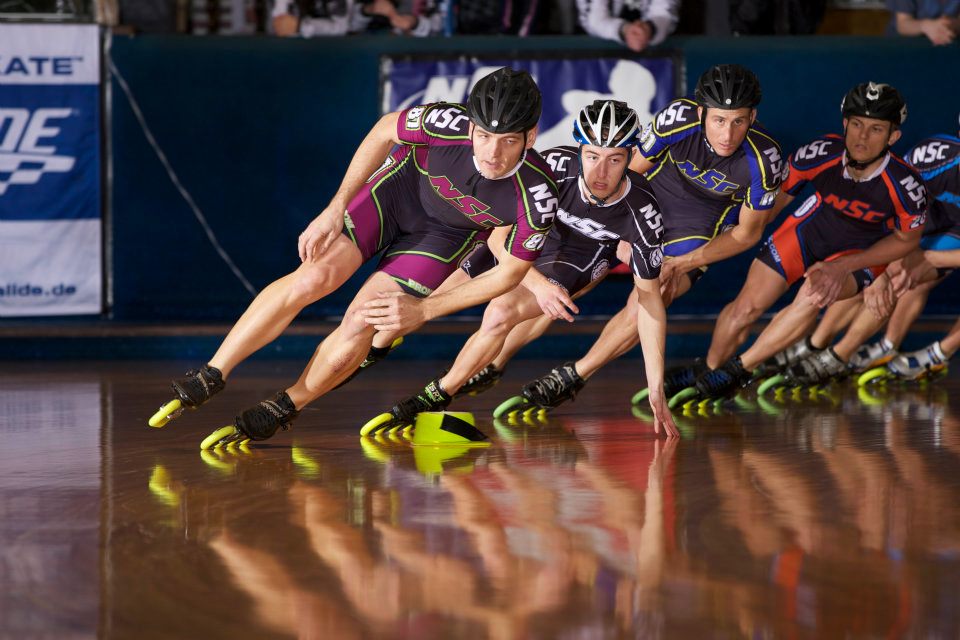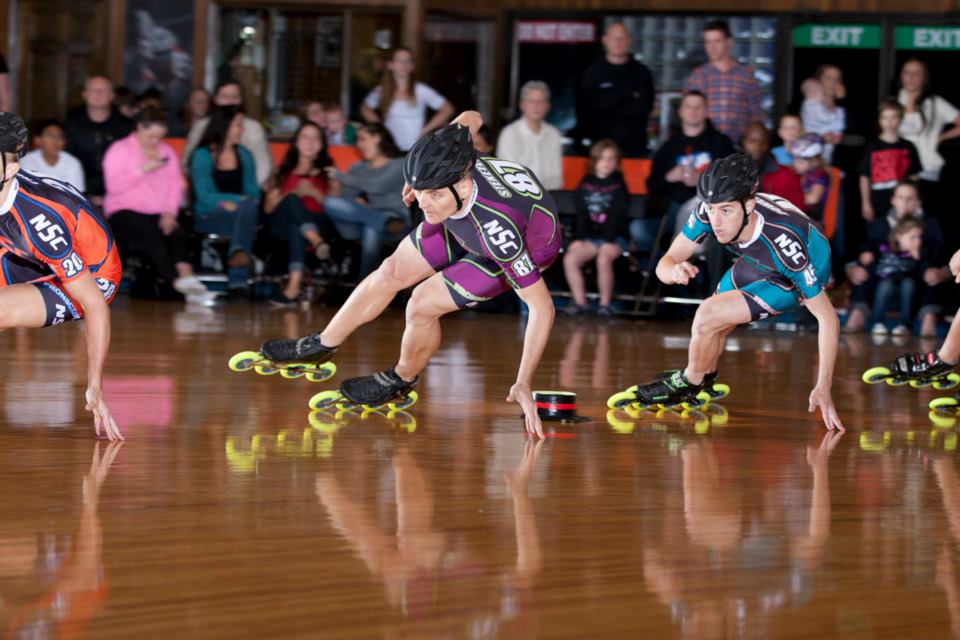 Pro NSC Season 4 Event 3 4-28-13
Back out in Seattle again for my first NSC event of the season and to my surprise the weather is sunny and warm which is a lot different than normal. I left the rain and snow in MI. Like always, Mike Pattison's floor does not disappoint as it was fast and tight. After taking almost 5 months off of training while Jenny was pregnant with our 5th child Mya (born Jan 10), I got back into training around the first of march. I am feeling a little behind the ball to say the least. Never the less, I am ready to have fun mixing it up with some of the fastest guys in the Nation.

First up was the prelim's for the 100m flying time trial. Top 15 times get to skate in the finals later tonight. Warming up I felt a little sluggish but tried to push through and loosen up. I got two runs in and came up short just barely breaking into the 8's with an 8.93 finishing 16th .003sec out of the finals. Not my best time but without skating much indoor in the last few months I was happy with it. Unfortunately it was not enough to make it into the finals. So now it is time to focus on the 1000m & 1600m heats.

1600m heat was first. I felt really uncomfortable the whole race. I tried to relax in the pack and I was really hesitant to pass up. Normally I like to race from the front and stay out of trouble. I found myself out of position when Wes went to front and Hammered with 8 to go. I managed to move up to 4th but I was struggling finishing my straights feeling clumsy and uncomfortable. I held on to the 4th and final qualifying spot all the way to the line and got hawked at the line. It was disappointing not making it to the final but on to the 1000m heat.

This time I told myself I would go from the front and that is exactly what I did. I passed back and forth for the lead with Sean for the first few laps. He hit it hard with 5 laps to go. With 2 laps to go I went for it and passed to the lead with an extremely sketchy pass (sorry Sean) and held on to qualify. I felt completely confident going into the final.
1000m final my strategy was simple, go from the front and make the young guys beat me. I won the start and lead it out. Stelly and I traded off leads for the first 6 laps. With 4 laps to go I passed into the lead and started to wind it up. Stelly passed up with 3 laps to go and I did my best to match his steps and go with him as he opened it up. Jarrett came by w 2 to go and I was confident that I could hold on behind him for a Bronze. But Jarrett slipped up and fell right in front of me. I had no where I go but right into the back of him. I managed to stay on my feet, but I found myself in the back 5 feet off the pack finishing 7th. I was disappointed but I did everything I could to race from the front. I put myself in perfect position at the end of the race but it just didn't work out. That is the way it goes sometimes. You can do everything right and still not get the result you were looking for. The only thing you can do is smile and thank The Lord for the ability to be out on the floor skating. I am very fortunate to be able to do what I do and shine a light for God to everyone I come in contact with. Praise God for he is good, all the time.
It has been goal of mine for the last year in NSC to qualify to race the 800m Grand Champion Race. Unfortunately it did not happen this time and I once again I found myself watching from the sidelines. If you missed it, you missed out on one of the craziest races of the season. Stelly kept the pace fast and went from the front. He opened it up w 5 to go and held nothing back. Jarrett was in perfect position and managed to stay on his feet and came by in the last lap for the win (3rd in a row, Congrats silky!). The craziness happened behind them when throughout the whole race, every other skater managed to crash and burn! Wild pass after pass and 6 crashes in 8 laps! It was madness! It is so exciting to watch these guys go for broke and leave it all out on the floor.

Throughout the whole night I was able to lift up some of the guys who were having a tough event. These young guys have such great talent and very few see how truly blessed they are. For me, I love to speak positive and encouraging things to anyone I can the whole event. I had three of my competitors in particular that I was able to encourage at this event and it was great. I had some great conversations with a few parents, spectators and officials throughout the whole night. We talked about everything from the wicked fast racing to where the sport is going and everything in between. I was also able to get some one-on-one time with a few of the guys talking about race strategy, technique and having a positive mental outlook no matter what the situation. Showing the love of God to these guys has been such an amazing experience and they just light up. I am truly blessed with all the great friends that I have made over the last two seasons of NSC. I would especially like to thank all of guys who race so hard each event, the officials who volunteer their time, Robin Pfander for all the work she does behind the scenes, and Miguel Jose for working so hard to get our sport to the next level and out to the mainstream. Until next time,

God Bless
BJ "The Doc" NSC #87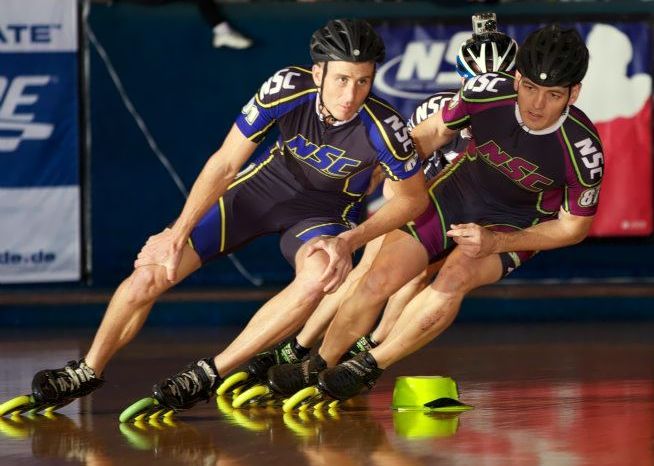 NSC Event #4 - 4/26/12
So far the NSC experience for me has been great. I have made all my finals and placed in the top 5 in at least one of the two finals at every event. I have also met some really great people. Last week I had the honor of being interviewed by the official writer of the NSC and the article came out a few days before this event. It was great. I feel very blessed to think that NSC feels that I am worth writing about. I got the opportunity to share with all the NSC fans a little bit of me and it was really cool. Here is a link to the interview. http://pronsc.com/passion-and-priorities-b-j-steketee-on-fitness-fidelity-and-faith/ I would like to thank NSC for the interview and I would also like to say thank you to everyone else who has read it and expressed their appreciation to me for standing out for my faith. I had a really great conversation tonight with a mom and her two boys about the importance of knowing who you are in Christ and how that relates to skating and how making an impact in peoples lives for eternity is more important than any race could ever be. To God be the glory, He is my everything and I am nothing with out Him.
Wow. What an event. Each event for me has been better than the previous and this one would be the best yet. After a full nights rest Thursday I got up and made pancakes for the guys. It has become a tradition. I thought I would change things up a bit pre race and take an easy run to loosen my legs up. After my 3 mile run, stretch down and a triple shot espresso from starbucks I was feeling great and ready to race.
We got to the rink at 130, earlier than previous events. The reason was because of a change in format. To cut down on the event time, NSC decided to have the top 16 guys skate the flying 100m time trial. In order to do this, we had to skate a qualifying time trial before the event started. I was excited because I felt that I would post a faster time with fresh legs. I got a good warm up in with 20 minutes of non stop skating with some build ups, did a full stretch down and was ready to go. I went second and posted a time of 8.71. Three hundredths faster than my previous time and good enough to put me in the finals. I was pumped.
Next up was the 1600m heats. Strategy was the same as always. Stay up front. I was never further back than 2nd the whole race. Jarrett passed me with 3 to go and we pulled away enough to coast the last lap and qualify. I felt great. Next up was the 1000m heats. From the gun Sean hit it hard. I struggled a bit to get comfortable and was in 3rd for the first 4 laps. Jarrett passed and I fell back to 4th with 4 to go. I found myself out of position and starting to panic. This is exactly why I like to skate from the front. I managed to keep calm enough to work my way back to 2nd and then crossed the line 3rd to make it to the final, but it took a toll on my legs.
Up next, 1600m final. I felt really confident going to the line and told myself that I would race for the win. I took 2nd off the start and sat there for the first 6 laps. This was an exercise in patience. How long do I wait till I go to the lead? Well, with 10 to go I felt people start to pass behind me and decided to move to the lead. I traded leads back and forth for a few laps then picked up the pace with 6 to go. Stelly came by me with 5 to go, then Jarrett passed me too. They picked it up and I went with them. Then with 3 laps to go I decided it is now or never and I passed Jarrett up into second place. We jammed up and he went right back by me the next lap. As my legs started to tighten up, Jake passed me and I wobbled a bit and was not able to get on him enough to try a pass. As I raced to the line I felt Jordan coming up behind me. I made sure I raced all the way to the line and we hawked. I edged him out by a half of wheel for 4th. I was happy with that. I left it all on the track and felt great.
Next was the 1000m final. After the 1600m 4th place finish I thought my chances were great to podium in this race. I thought to myself on the way to the line, "It is now or never" Racing to win was the only way I would have a shot against these boys so that is what I did. I raced from the front, just how I like. I was 2nd off the start and quickly moved to the lead. Sean and I passed back and forth for the first 5 laps. Then, I hesitated and sat in 2nd for one straight and Jarrett passed then stelly passed the next straight. With 4 laps to go, I was in forth. I thought to myself, "keep on it, you can run with these guys." I matched their steps and with 3 to go I passed into 3rd. With 2 to go, Jake passed me. I instantly matched his foot speed and went with him. Here it is. One to go, third place right in front of me. It is now or never. Podium or another 4th. Here is my chance for my first NSC podium. All I have to do is go for it. So I did. I matched his steps and made my move on the last straight away, barely making it buy and crossing the line in 3rd. I did it! My first NSC podium. Not by default. Not by someone falling or getting disqualified. It was LEGIT! I raced my butt off and placed 3rd in a Pro NSC Final! I was overwhelmed with excitement. Prase God for the wonderful gift and talent he has given to me to be able to race with these smokin fast Guys!
Next up was the 100m final time trials and I was first to go. My goal was to improve my time to 8.6 or better. I felt great, but my final time came up just short. 8.74. I was happy with that and it put me in the top 15 for the event.
All in all, it was my best event yet. I got 4th in the 16, 3rd in the 10 and ended up winning the leaders prize for leading the most amount of laps out of anyone else. I changed some things with my warm up and I also made a huge change with my sports nutrition this event and boy did it help a TON! For the first time this season, I did not feel fatigued as much in my finals, especially my last race the 100m final. I took the advice of a sports nutritionist and used all Natural Shaklee brand sports nutrition package. It was PHENOMENAL! I can not believe the difference it made with my skating today. If you are interested in learning more about it you can go to my training web page http://www.skatepit.net/ and click on the nutrition link to see more.
Now it is time to reward myself with a slice of pizza and go to bed. Thanks for reading.
God Bless
Dr. BJ
NSC #87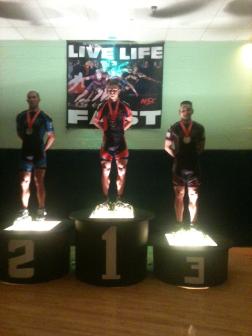 NSC Event #3 - 3/15/12
Here we go again. Time to wind it up and see what we got. Flying out to this third NSC event I was really anxious. I changed some things in my training to improve my top end and I was not sure how things would play out. I was confident that I would be able to make all my finals, but this is NSC and anything could happen. I couldn't wait to get to the rink, and a Fresh coat of roll on at Patterson's Skating Rink = pure Awesomeness! This floor was wicked fast tonight. Guys were pushing their limits which ended up making for some great racing. Spills and thrills all night long.
Up first, 16 lap heat. My strategy was to stay up front like always and stay out of trouble. This has worked for me all year, so I stuck to it. I was second off the start and I settled in. Pace was good as we fought to stay in position. I stayed in the top three the whole race and went to the lead w 6 to go and picked it up. 4 laps to go, stelly and cheeks went buy. As we all jammed up in the corner, zack took advantage and passed from 4th to 1st. We sprinted out the last few laps and I finished 4th right behind them. My legs did not feel the greatest, but it was just the first race.
Next up, 10 lap heat. Same strategy, stay up front. I won the start and lead out the pace. Cheeks and i swapped the lead back and fourth till 4 to go. He sprinted and I struggled to go with him, but I didn't give up. I kept at it and reeled him back in. We both got way out, and backed it down w 1 to go and wound up 1st and 2nd. Now on to the finals.
The 16 lap final was up first. I made sure for the first half of the race I was never further back than 3rd. I was racing with Stelly, Cheeks and Jarret. As we went back and forth for position, I struggled to stay calm going to the lead a number of times to stay out of trouble and I felt great. with 8 laps to go I was in 4th. I moved up past Jarret into 3rd behind stelly. He went a little wide and I went for the Juke pass to put me into second, however, I somehow managed to step right on the pylon and I went tumbling to the ground and one other skater went over me. All I could think was get up and keep skating. I got up and found myself in 7th a half lap back. As I got back up to speed, I thought, anything can happen so keep skating. They give out points for the top 8 so I kept racing. W/ two laps to go Cheeks went down and that put me in 6th across the line. After the race I was really frustrated with myself for making such a mistake, but, that is racing. That race is done and on to the 10 lap final.
I won the start in the 10 lap final and was determined to race from the front once again. Cheeks and I passed back and fourth for the first 5 laps and stelly got up there a few times with us too. I just kept going back to the lead as much as I could. And with 5 to go I decided it is now or never so I wound it up. It was good enough to stay in the lead till 3 to go when cheeks went to the lead. I matched his steps and stayed with him. 2 to go jarret went by, then stelly, then another. with 1 lap to go i found myself in 5th place. My legs on fire, my heart beating out of my chest all I could think was, finish. in the last corner zac got to the inside of me and two people went down in front of me. We came to the line and I was 4th. What a crazy race. I finished just off the podium 15 feet behind the leader. It was so close, yet so far. Wow. I went for it, left it all out there, and it was just not enough.
Looking back, I can honestly say that I am pleased with the way I skated. I wish my placements would have been a little better. I really wanted to get on podium this race. But, each event I have gotten closer and closer to the winners of each race. That, for me, is a Victory. Until next time, skate fast, have fun and never give up.
God Bless
BJ
NSC Event #2

Going into the second event I was much more relaxed. That being said, lets get right into the race action. They mixed up the 1600 heats from the last event and I wound up in heat one with Jake and Cheeks and a few other young fast guys but I was confident that I could make it out with 4 to qualify to the finals. My plan was to stay up front as always and stay relaxed. I took second off the start and settled in. The first 8 laps or so I traded placements back and fourth a few times always moving up when I had the chance. I felt way more relaxed than the first event. My legs were a little tight, but that is good for me. I always skate better w tight legs. The floor was a little sketchy but I tried not to let it bother me. I also felt like the new wheels the I got where wet. It was the weirdest feeling, but I sucked it up and found myself passing back and forth with Cheeks with 7 to go. 4 to go they still had not kicked it into high gear so I went to the lead and hammered. I knew Cheeks and Jake would go by, but I wanted to make sure I would be in the top 4. Two laps to go and they went buy. They picked it up and I struggled to go with them. I was frustrated but we had gaped out everyone else so I coasted to the finish in 3rd, pylons back.
On to the 1000 heat. Last event, someone passed up and fell in front of me taking me out. So I was determined to stay on my feet and lead as much as possible to stay out of trouble. I ran the start hard and took 2nd behind Cheeks. I settled in and waited for a chance to take the lead. 7 to go I went to the lead and picked it up to a hot pace. And once again I felt my wheels getting squirrely. Not sure what it was, but it felt like the hubs were leaking water or something. It almost felt like I was rolling over sweat beads on the floor. Between races I had switched wheels around and it helped my right skate but not the left. Anyways, no pit stops here at NSC, time to suck it up and race. Once again I found myself in the lead w 4 to go. Cheeks and Jake passed w 3 to go and I matched their steps and went with them. It felt great. We coasted across the line w one other guy and qualified to the final.

1600 final I was excited. I finally felt the confidence that I could run w these guys. The final was me, Jarret, Stelly, Cheeks, Jake, Wesley and a few young guys. This final was going to rock. Off the start I took second and then slipped back to third. Pace was mellow for the first 6 laps or so, not much passing. We shuffled around a bit and I worked my way to the lead a few times. With six to go I went to the lead. And picked it up a bit. This was it. Time to see what I could do. By four to go my legs started to tighten up and w three to go they started to go by. One by one like a fraight train they went by and I soon found myself in 6th. I tried to match these guys foot speed but it was too much and they started to pull away. I didn't give up, I thought, just finish your straights. They are right there. I gutted it out and finished 6th just under a half lap back. I was a little disappointed that I did not have the top end at the end of the race, but thought to myself, I was glosser than last time. Progress is always good.

Next up, 1000 final. I knew it would be fast, so my plan was to get a good start, stay in position as long as I can, and hold on at the end. Again I took second on the start. Cheeks passed up on me and I took the outside lane to try to challenge and instantly came up on first. Then in an instant stepped in though the pack and to the lead. Outside to inside pass to the lead, and I felt great. With 7 to go I picked it up a bit to prevent any double passes. It worked. Cheeks went by and then Stelly tried to pass from 5th to 2nd infront of me and bumped me a bit which pushed me to the outside. It wasn't bad, just racing. I only lost a little momentum and started to look to move back up. As the pace quickened I thought to myself, match their feet. And I did. As the pace wound up I was still in it. As I was looking to pass back up, I got on my toes and my wheels barked, Loud. I lost all my speed and instantly was off the back. Just then, the boys hit it and they were gone. No excuses, I messed up and it cost me an opportunity of being in the right posiion to try to run with these guys at the end of the race. As I recovered and built up some speed I saw that 7th was slowing down so I went after him and passed up w one to go. Never give up, every place counts even when you are off the back. You never know what will happen, so I finished 7th and then Stelly was DQed putting me in 6th.

My goal was top five. I just didnt have enough at the end of the races. These guys can kick it in and get to another gear. I got some serious work to do. Now it is time to get Back at it when I get home and I can't wait to the event in March. Till then, skate fast, train hard and never give up!
God Bless
BJ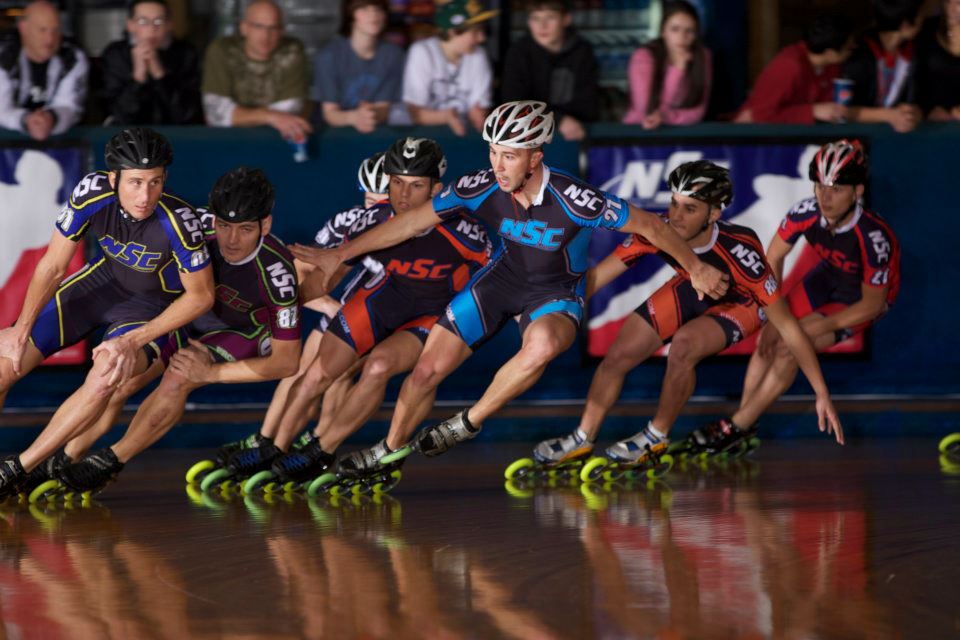 NSC Event 1
Here we go. Flying back out to Seattle for the first event of the season 3 NSC. This is my first official event and on my way out I was stoked. After a good showing at trials last November I was anxious to see how I would do at this first event. This would be my first time back racing with the pro skaters indoor since 1999. Suspense was through the roof all the way out. I flew out Saturday night with high expectations for the event on Monday. I flew out Saturday because I was not sure how I would feel the next day after traveling. This proved to be a wise decision.
We went to practice on Sunday morning. We were the first ones at the rink but soon people started to pour in. We all got warmed up and started a pace. The rink has an amazing 95 ft wide by 200 ft long floor of pure silky smooth rotunda wood. The 100m track was filled w 75+ skaters and the back 25 were all smoking Fast Pro NSC skaters. This was a burn pace like no other. It was truly a unique experience. I felt Jet lag. My legs were sluggish and I had no snap in my step at all the whole practice and I ended up falling twice. Not bad falls, but frustration started to set in. Little did I know this weekend was not going to be about racing for me. More on that later.
Sunday night the owners of NSC, Miguel Jose & Joey Mantia, took all the guys out for a nice dinner and announced some new stuff that was happening this season. Food was great, but I am not much of a party guy so I couldn't wait to get back to the house and get some sleep.
Monday morning I woke up late and felt rested. I made pancakes for all the guys staying in the house and it was great. They seem to think this will be a tradition. Lol Not! We got to the rink at 1:30 for a photo shoot. We all took turns in front of the camara posing in street cloths and in our uniforms and getting interviewed. It was pretty cool. However, tension was rising for what would take place later that night. Guys were getting nervous, joking around, talking smack and telling crazy race stories about a tackling each other on the track while the crew set up for the event and the camaras snaped pictures. Halfway though we stepped out to eat. When we got back more photos and candid shots. We had a quick meeting to go over the schedule then it was time to get ready to Rumble.
They gave us an hour and a half of floor time to do what ever we wanted before the official warm up. I was happy because it always takes me a while to get warmed up and I had my new wheels to break in. I did my usuall warm up Jog and stretch Down before putting my skates on. Got out on the floor and did about 100 laps just chilling with a few accelerations. Then rolled around a bit more took my skates off and stretched. By this time spectators were rolling in and the buzz was starting. Oh, and did I mention the whole warm up the lights were out w the exception of four spotlights over each cone and some session disco lasers and spin lights. Music was playing and it was awesome. I always like skating when it is dark cause it makes you feel like you are skating fast. After Stretching they started w the event intro and oh boy, here we go. I am actually going to skate NSC. I was really excited and really nervous all at the same time. Love it!
First up 1600m heats. 4 to qualify to the final. I was in heat two with some really fast guys. But I was confident that I could make both finals and place in the top 5 over all just like at trials. The race started out Fast. I took third off the start and settled in. I love this distance because it is longer and I feel I can use my experience in race positioning to my advantage even if I am not the fastest guy on the floor. My strategy was to stay up front and make them beat me. Justin Stelly pushed the pace for the first 10 laps or so. Jarrett Paul and I traded passes back and fourth for a while for second. But for some reason I would not go to the lead. Maybe it was self doubt, Maybe it was the nervousness of the first race, I don't really know but it is not like me to not go up front to Try to control the race. Before I knew it, I was in fourth on the bubble and the pace only got faster. Wesley went to the lead and picked it up some more so I moved up past Stelly, and he went right back by me the next straight a way. So there I sat on the bubble. Then, in an instant, wesley and jarret went down. Instantly Justin and I were 1st and 2nd. I don't know how it happened and I don't know how we got around it. But I looked back and there was no one behind me. I coasted around a few more laps and finished second. I did it! My first NSC final. I was pumped.
Next up was the 1000m heats. With how I felt in the 1600m heats I was confident that I could make this final as well. I told myself before the race that I would race from the front and would lead as much as possible. I took second on the start and passed up to the lead right away. On the second lap I got passed and fell back to second. Then Sean passed me putting me back in third. I instantly passed back but he took an extra cross and slipped his hips back in front of me. I went to let him back in and BOOM, he fell. Right onto my feet. There was nothing I could do. We went down and in an instant we were out of the race. I quickly got up and finished the race in 6th place. It was really frustrating. I knew that I could have been in the final but that is how racing goes sometimes. As my anger and frustration started to build, I rolled around as they turned down the lights and started up the music. I suddenly realized where I was, and in that moment as I sat down and read an encouraging text from my wife I realized what was important. And it was not the racing.
I looked around in the back stage area at all the guys. Some new, some old. Some I have raced with for 20 years and some I have never raced before. I glanced over at an old friend, steve carter. He was smiling as always. Even after a tough fall of his own, he was smiling and laughing with the guys as always. As we went out for national anthem I over heard one of the young guys talking about how he felt. It was very negative, so I decided to lift him up a little with some postive thoughts of encouragement. He responded with a "thanks man". From that point on I understood what I was there to do. Finals or no finals, win or loose, I was there to represent Christ to the best of my ability to all who I talked to.
Next up, 16 lap final. I started out in the front, just as I planned. I was going to skate up front as long as possible and hang on at the end. Back and forth I went with jarret, cheeks and stelly. Menuvering for position and looking for openings. Half way through the race my legs tighened up and I found myself in 3rd. jake went buy and I thought, just hold on, you can run with these guys. Then stelly went buy and I tried my best to match his steps. And I went with them as the pace wound up. Faster and faster as jarret, cheeks and jake jossled for position up front. I knew that it was now or never so I steped out and passed stelly to put me in 4th. Instantly he went right back buy. With 4 laps to go, the guys stepped it up a knotch and I struggled to go with them. I fell off stelly by a few feet, then a few more. I told myself, no matter what, don't give up. Grind it out. So I did. And I finished 5th.
As the rest of the event rolled on, I got to watch some great racing and I got to talk to and meet a lot of new people. Even though I did not achive my goal of making both my finals and placing in the top 5 overall in the distance, I felt a sence of accomplishment. I had gone out there and raced with the best of them. Now it is time to get back to work. Untill next time, skate fast, have fun and give it your all.
God Bless
BJ



Blog 11-14-11

Been a long time since I have blogged about anything but I thought I might speak my mind today.
I have not raced professionally in almost 12 years. When I retired in 2000 and started going to school full time and coaching I honestly did not know if I would ever race again. My life dream was to have a family and work with my dad as a chiropractor. I was moving on to other things and new responsibilities as a new Husband. Over the next 7 years I got my degree and started a family. In 2006 I got back into skating again racing the classic division. Then again in 2008. Not really training, just skating practice here and there and racing. Now at 33 I have gotten back into racing professionally again. With one full season of training under my belt, in Aug I tried out for the USA World Team for the first time since 1999. I was not sure what to expect. Could I still race w these guys? Would I be fast enough? Could I even hang? Lots of questions in my head. When all was said and done, I finished 12th overall and made the National Team. I was very pleased. I did it. At 33 years old, I got out there and mixed it up with the young guys and held my own.

After ward I was left questioning myself, what's next? Do I continue on in my training and go again next year? Not sure. As Jenn was in Korea for the world championships, I thought a lot about it. Can I do this again? Train another full season? Can I fit it into my schedule w out sacrificing family time? Just about then, I started reading Apolo Ohno's book Zero Regrets. When I was done, I decided to make up my mind. I was either all in or not. So after much prayer, I made up my mind. I am going for it. No matter what anyone says. No matter what any one thinks. No matter if I have a training facility or not. No matter if I make a fool of myself or not, I am ALL IN! Which brought up a new question: what does this mean? Well, my answer was, train harder and smarter than last year and get back In to racing with the pro's indoor as well as outdoor. Which brought me to the decision of trying out for NSC, and that brings me to this weekend.

I got to Seattle Friday not knowing what to expect. Top 26 qualify. 12 sprinters and 14 endurance. All I knew was that I was there for distance. I decided to skate the sprint races to get a feel for the floor and to get a feel for some faster speeds since all my indoor training has been in tennis courts and parking lots for the last 6 weeks w/ the exception of two indoor practices w/ coach Jay in Detroit and one small league meet. I did not make it out of any of my heats and fell once. I was really disappointed. Did I make the right decision? Should I be here? Am I fast enough? I went to bed Saturday night not knowing what to expect on Sunday.

Endurance races started at 6am Sunday morning. 1500m, 1000m & 2000m. All of my favorite distances. Up first, 1500m heat. I made up my mind that I would stay up front and try to control the race, and see how it plays out in the end. With 5 laps to go I was in perfect position, 2nd. I passed to the front and wound it up and I wound up 2nd qualifying me for the semi. I was excited. Really excited. So I grabbed Jakes helmet, and said "yeah" into his helmet cam as we rolled around the center after the race.

Up next, 1000m heat. I did the same thing as the 1500 and had the same result qualifying me for a second semi. I was gaining confidence. Then came the 2000m heat. Again, same strategy, stay up front and I it payed off. I had qualified for all three semifinals.

Next up, 1500m Semi. I stuck w what was working. Stay up front the whole race and lead out the sprint. These guys were fast, and I wanted to make them beat me. I was in position the whole race and w 4 to go Jake wound it up and hung w him. Jeremy passed me putting me in 3rd and then I did the unthinkable; I passed him back with 2 laps to go. He immediately went back by and I felt someone grab me from behind and I lost all of my speed. In a desperate attempt to qualify I pushed his hands off me as I was passed by another skater. Now I was on the bubble in the 4th qualifying position with 1 lap to go. I raced to the line and hawked to get 5th place by a half of wheel. But wait, what was the official result. I waited anxiously to hear. And then it came, the skater who out hawked me was the same skater that I got mixed up with and he got disqualified. I was in. My first Pro Final in 12 years. I was stoked!

Up next, 1000m semi. Right from the gun I was out of position. In the back because of a bad start. I tried to work my way to the front but ran out of laps and legs. I finished 5th qualifying me for the B Final. No A final in this distance. I was really upset because I knew I could do better and I would prove myself correct in the races to come.

2000m semi I skated great. Same strategy, stay up front in position. It worked out great and I made the A Final. I couldn't believe it. I was In 2 A finals.

Up next, 1500m Final. I was in and ready to go. I did not know what to expect other than what I have been doing was working. So I did the same in the final. I stayed up front mixing it up with some of the best pro skaters in the world. 5 laps to go I was in the top three and they wound it up. Moment of truth. Can I go with them, or will I get dropped. I hung w them and then got passed. And then passed again. Next thing I know I am in 7th with 1 lap to go pylons off the leader. And that is where I finished. Just not enough kick at the end of the race. But I was there, racing with them. 7th place was ok. I proved that I could run with these guys, I just needed a little more speed at the end of the race. I was so close, just not quite enough.

Up next the 1000m B final racing for 9th-16th place points. Now with a new sense of self confidence I convinced myself that I could win this Final. I mentally went over the race in my head of every possible situation that could arise and what I would do for each. I convinced myself that I was the fastest on the line and that no one could beat me. So I stuck with what had worked all day. Race from the front. I never let myself to go further back than 3rd. And with 4 laps to go I went to the lead and hammered. All that went though my head was, you got this! This race is yours to win. Leave no Doubt! No one will question if I can still do it when this race is done. I am going for it! With one lap to go, my legs on fire, my heart rate though the roof, I was still in the lead and one thing came to my mind. Something my coach Jay always tells me when I am hurting. "step the whole floor. ". That is exactly what I did and came across the line 1st. And there it was. A feeling I have not had since my last professional race win in 2000. A feeling I have only attained through racing. I can't describe it. I cant explain it. The emotions. The adrenaline. The pureness of a undeniable victory. All I can say is that it leaves you hungry for more. I was overwhelmed. Not only had I now officially qualified for NSC, I had done it in convincing fashion. I was in the top 6. Now on to the 20 lap final.

By this time of the day I had skated 8 distance races and It was starting to take it's toll. I had been forcing myself to eat cliff bars and banana's between races and drink water to stay hydrated. I know the importance keeping your energy levels up through out a long day of racing. With out proper nutrition you will run out of gas before the end of the day. I was tired, but I was not going to let that stop me. I was going to go for broke. For the first 6-7 laps I found myself up front racing w Michael, Jarrett, Jake and Jeremy. I was mixing it up and holding my own. Jarrett went to the lead with 10 to go and wound it up. I was in 5th and all I could do was hang on. Before I new it, I found myself in 7th. I just didnt have enough, but I was giving it my all and I refused to give up. With three laps to go I gained some momentum on 5th and 6th who had also started to fade and passed into 6th before the last corner and out of the last corner finished right behind 5th. 6th place in a Pro Mens Final. It was great. I left it all out on the floor and have no regrets.

Overall I finished 5th in the Endurance portion of the event. 14 spots were available and I was in. Not Just in the top 14 but 5th place. To me, this was convincing enough. No one could say; "Well, so and so wasn't there." Or "He just barley made it." NO, I had done it. Proving, especially to myself, that I can still race at that level. I have a lot of work to do yet to get to where I want to be, but I welcome it. Bring it on! I am back baby and I can't wait for the event in January.

I would like to say thank you to Miguel for encouraging me to come try out and letting me participate in such an awesome event. This organization holds one of the best most organized events that i have ever seen in 20 years of racing. They are truly in it for the skaters. Thanks to Robin & Ron for letting me stay with them and supporting me. I would like to thank Kelly from Cado Motus Skate Company and Curt from Hyper for sponsoring me this season. I would like to thank my Coach, Jay for training me and constantly reminding me that I can still do it. And most importantly I would like to thank my training partner/encourager/ best friend/soul mate Jenny Steketee. I love you with all my heart and could not have done this with out you. And last I would like to Thank God for this Awesome opportunity to be able to do something I love and shine a light in this world for Him and give all the glory to Him.

Till next time.


BJ